Machines and supplies: we offer complete packages and training
We use the industry's finest cleaning equipment to provide unequalled service to our clients. We also supply products, cleaning solutions and training to the hotel and commercial sector.
British American Cleaning Group is the exclusive distributor for Masterblend cleaning machines and chemical products. MasterBlend, a US company with over 100 years combined hands-on experience in the cleaning industry, offers not only premium performance cleaning solutions and state of the art cleaning equipment, but complete field support, including IICRC certification.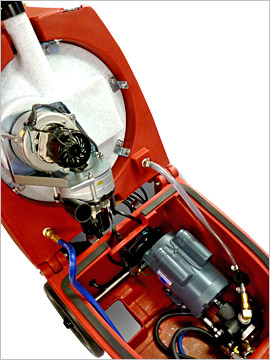 The proven route to success in any cleaning job is a combination of technical knowledge and correct use of equipment and cleaning chemicals. This is only possible by investing in good basic training and quality products. We contract clean for hundreds of hotels, offices, shops and private homes and use the best machines we can buy; the same machines we sell!
We tailor make professional packages to suit all sizes of commercial business and provide comprehensive training in the use of all our machines and products. Our sales staff will be pleased to discuss your individual requirements.
Our training will enable you to achieve truly professional results and give you self sufficiency in carpet, upholstery and curtain cleaning. Training places an emphasis on developing practical skills as well as understanding carpet and upholstery conditions and machine care.