Machines and supplies: we offer complete packages and training
We use the industry's finest cleaning equipment to provide unequalled service to our clients. We also supply products, cleaning solutions and training to the hotel and commercial sector.
British American Cleaning Group is the exclusive distributor for Masterblend cleaning machines and chemical products. MasterBlend, a US company with over 100 years combined hands-on experience in the cleaning industry, offers not only premium performance cleaning solutions and state of the art cleaning equipment, but complete field support, including IICRC certification.
A professional super concentrated extraction cleaning solution with anti-resoil chemistry for the safe and effective cleaning of upholstery and carpets including wool and nylon stain resistant types. Excellent oily and particulate soil removal. Cleans and sanitizes. Fragrance free formulation. Environmentally safe and completely biodegradable. Dilution 1 to 500; pH 9. Case quantity 4 x 5 Lt.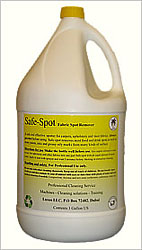 A ready to use mildly alkaline spotter for use on carpets and fine fabrics. Safe Spot removes most food and drink spots as well as many paints, inks and oily marks from fabric and carpeting. Ready to use for carpeting. 1 to 1 for fabrics. Case quantity 4 x 5 Lt.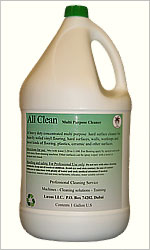 A heavy duty concentrated multi purpose hard surface cleaner and sanitizer for vinyl floors, walls, worktops and most kinds of wood, concrete, plastic, ceramic and other hard surfaces. For flooring, walls and tiling apply with rotary floor cleaning machines or extraction equipment. Other Surfaces can be spray wiped or mopped. Dilute with water 1-20 to 1-100; pH 10. Case quantity 4 x 5 Lt.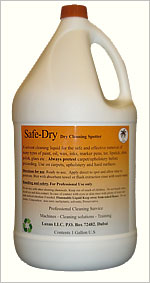 A solvent based spotter for removing Ink, paints, oils, chewing gums etc. A blend of safe aliphatic carbons. Ready to use. Case quantity 4 x 5 Lt.